Today's update on my Grand Poobah ukulele build is one steeped in frustration. It's been a bloody battle since I last wrote about my exploits. I've had a number of mishaps and wrestled with all manner of problems (a number of which have been of my own making). This might take me a while, but let me explain...

In line with my wrestling comment above, I'm going to weave a theme into this post of "men in masks". What on earth am I talking about? You'll just have to read on to find out...

I rewatched the brilliant Nacho Libre last week, which is where I got the above two pictures from. This film sees Jack Black as a Mexican monk who turns to wrestling to earn money to feed the orphans. If you haven't already seen it, then watch it as soon as you can!

In my last update, I speculated that I most likely wouldn't be able to make the neck for the Grand Poobah without joining more wood. Actually, when I lay the template on the wood, I convinced myself that it would be possible. I figured that it would be tight, but my skills would be able to pull this off. Ha ha. And, as you can see, I did pull it off!

I cut the wood close to the template with my trusty jigsaw and then filed closer still. I want to call out a couple of things here. First of all... this wood I'm using is tough as nails! I want you to hold that thought. Secondly, see the file? That's a microplane file that I bought having seen +Daniel Hulbert using one. First impressions are that it is great! After doing the neck I pronounced that I was a convert . I want you to hold this thought too...

Let's move on to the body...

You will remember that a key part of this build has been my burning desire to recycle some wood I've had knocking around for years. I'd go as far as to say that I probably wouldn't have started this project, if it hadn't been for the challenge of finding a way to use this wood.

In my previous update, I showed you how I glued a number of boards together to produce thicker "planks". Now I'm going to show you how I've joined three of these planks together to produce a blank for the body.

This was the stage that I most feared would scupper me. I've never done anything like this before and I was highly suspicious that my lack of tools and training could be my undoing. Hopefully a winning smile would be enough to get me through.... ;-)

This doesn't look too bad does it? I used my electric plane and just kept going at it until I got to the stage where I could sort of balance the blocks on top of each other. Boy was it hard! I was doing it all by eye and when I got it level front-to-back, it wouldn't be level left-to-right and vice versa. Eventually, I got something that I was sort of happy with.

Before we move on, be sure to check out this video and a great version of Cielito Lindo. The masked ukulele player is none other than our very own +Eric Harris! Smackdown! Be sure to check out Eric on his blog Uke4U.



Here you can see the blocks balancing in a sort of straight tower.

Here are the blocks laying flat. I sanded to try and get a cleaner join, but as you can see here, I couldn't get it perfect. What I settled for in the end was trying to ensure that one end was as good as I could get it, and the other end (the far end in this picture) would be cut off as scrap.

It was easy to glue the first two blocks together. I pretty much did what I'd been doing to join the wood earlier in the project.

The last block was a lot more difficult to glue, mainly because my clamps aren't big enough. I invented a technique where I tied two bits of fabric into loops. I balanced the blocks to be glued on a wider bit of wood as the base and then put the fabric loops around all of the wood. The base had to be wider, because I didn't want the fabric to stick to the glue. Then I twisted the fabric with a wood rod and a screw until it was taut. I can't remember where I first saw something like this being done, but it worked well in this instance. The challenge was to line the wood up correctly. I did it by eye and got lucky.

Here you can see the back of the blocks as they're drying. See the fancy twisting I've done here. Yep, it's a bit of a mess, but it worked!

To me, the block looks like the Jawa Sandcrawler from Star Wars (photo courtesy of architizer).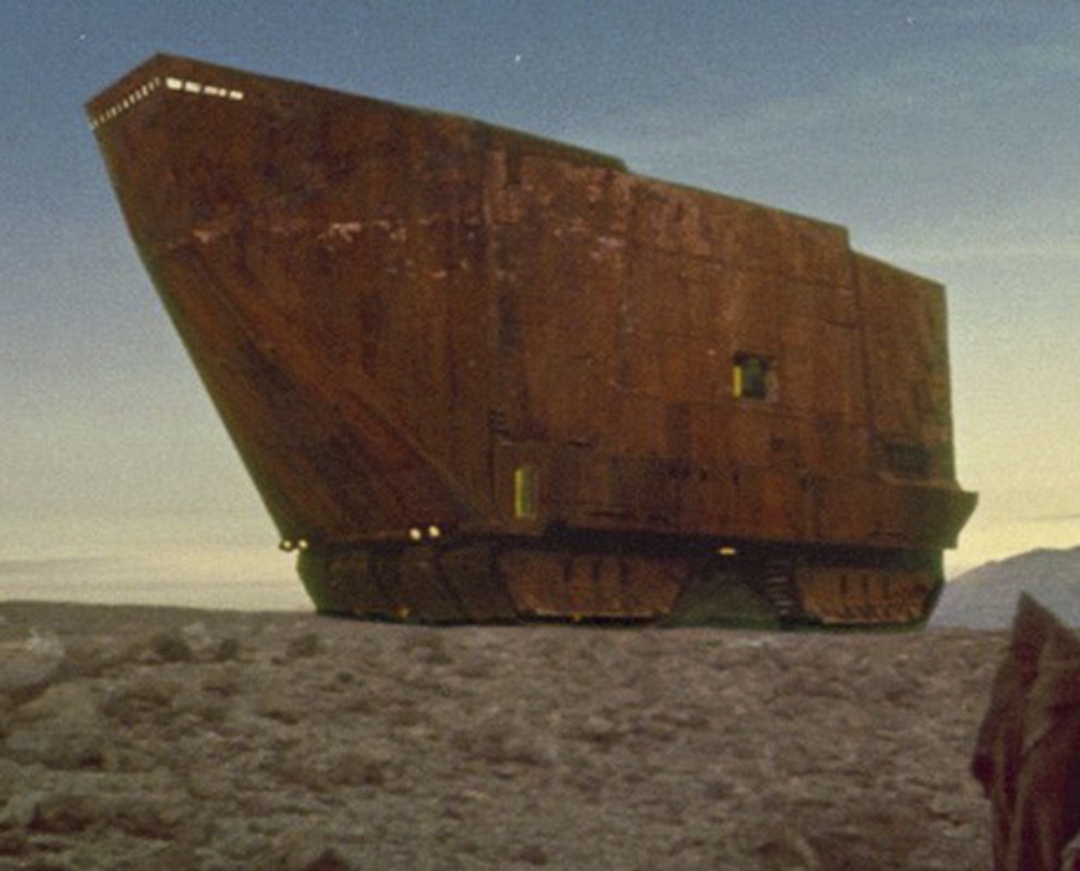 Jawas ROCK!

What music do you reckon Jawas play?

This?



No, I haven't got a clue what this is all about. Shall we get back to the build? (Picture courtesy of Reddit)

Once it had all dried, I ran the electric plane over the block, front and back. The sandpaper was to remove a few lines left by the plane. You can see here that I didn't bother doing the bits that were going to end up as scrap. So far so good!

This is where things started to go awry. I drew an outline of the body template on the blank and started to cut it with the jigsaw. Bloody hell it was hard work. This wood is really heavy and tough. I didn't get too far around the edge before my blade snapped. Damn! I ordered a new one and waited for it to arrive. Then if the Jigsaw didn't give up the ghost! The bit where you fit the blades came apart! I'll have to look at it at some point and see if it's fixable. For now, I shoved it aside and cut the rest with a hand saw. Then I filed. What I discovered is that the microplane went blunt pretty quick. Is this a problem with microplanes or was I perhaps doing too much with mine?

Can you guess who this is in the giant bear mask? Yes... It's Alaskan wrestling sensation +Ukulele Russ! He's rarely seen out of this new outfit these days and the rumour is that he only answers to his new name... "the Bear". Check out his new soundcloud channel for his song "Be Bear Aware" below...



Here's the body blank after I'd spent a number of hours working it with a file. The left hand side is the front. The right hand side is the back. Look what I've done! I've only gone and managed to get one of the holes in the wood right on the edge of the body! You wouldn't believe the number of times I measured and remeasured this!!! Also, can you see the line on the body where the glued wood doesn't quite meet. It's very noticeable on the back, and one of the joins isn't so good on the front either. Damn!

I considered trimming the body, but that would have meant compromising my design. Far too easy! I vowed that Art must win. This could only mean more work for me...

Look what I did! I fashioned a dowel to plug the hole! That's glued and I'll trim it probably tomorrow. I wonder what else I can do to make this project a little harder?

Blimey! I joked on Google+ that I'd make this after building the Grand Poobah. It'll all depend upon how much wood I have left over ;-)
That's all for today. I'm knackered!